The digital menu is only accessible from a mobile device.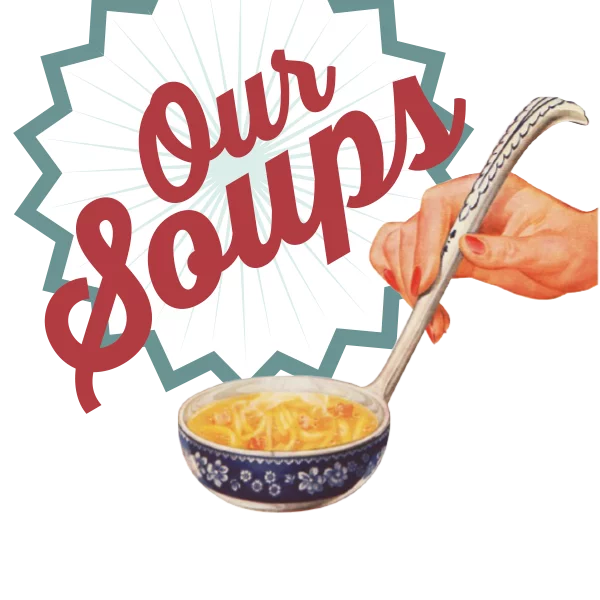 The idea behind "La Zupperia the Johnny" is to server first class soups from around the world, made with love and the very best raw ingredients.
TOMATO SOUP
(Johnny's signature soup). Served with cream and boiled eggs.
COLIFLOWER SOUP
With bacon and crutons
TOM YUM
Our fantastic Thailand soup with seafood, lime, coconut milk, galangal, lemongrass and pasta.
HARIRA
Spectacular soup from Morocco made of veal and vegetables. Full of exotic tastes. Served with egg and pasta (Hall-Lal)
The FAMOUS ONE.
GOULASH SOUP
A classic Hungarian soup made with beef, vegetables and their special spices. Not too hot!!
FRENCH (oven-baked) ONION SOUP
This soup is known worldwide!! Served with cheese-covered bread and baked in the oven (very warm).
BERGENSK FISH SOUP
The base for this wonderfully flavwored fish soup comes from the cold waters along Norways coast. Amix of sweet and sour.
SOUP OF THE DAY
Every day, we serve freshly homemade soup from our hot pot, so you can eat all you want.
SPANISH STYLE SOUP OF THE DAY
Beans, lentils, ribs with potato etc.
If you would like, we have
HOME BAKED BREAD AND BUTTER

Tropical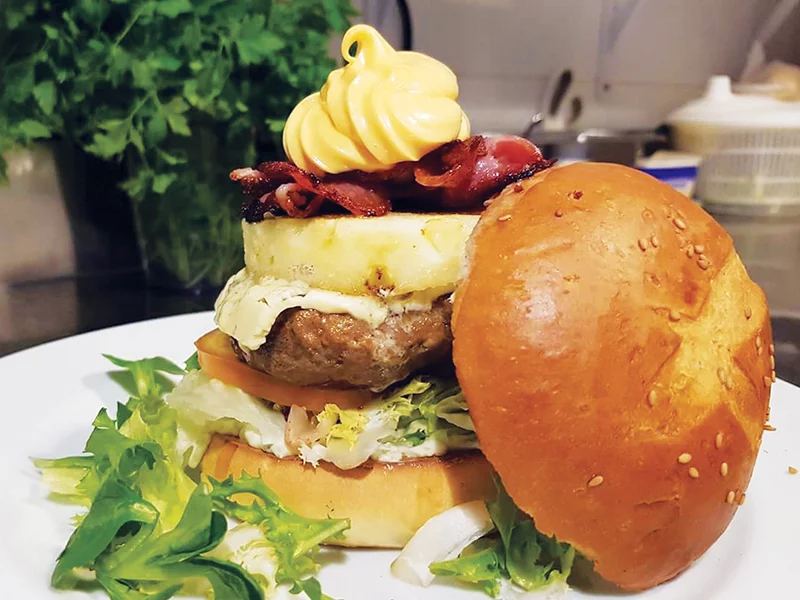 Bacon, blue cheese, grilled pineapple and chilli-mango mayonnaise. 190g.
12,75€
Casa Blanka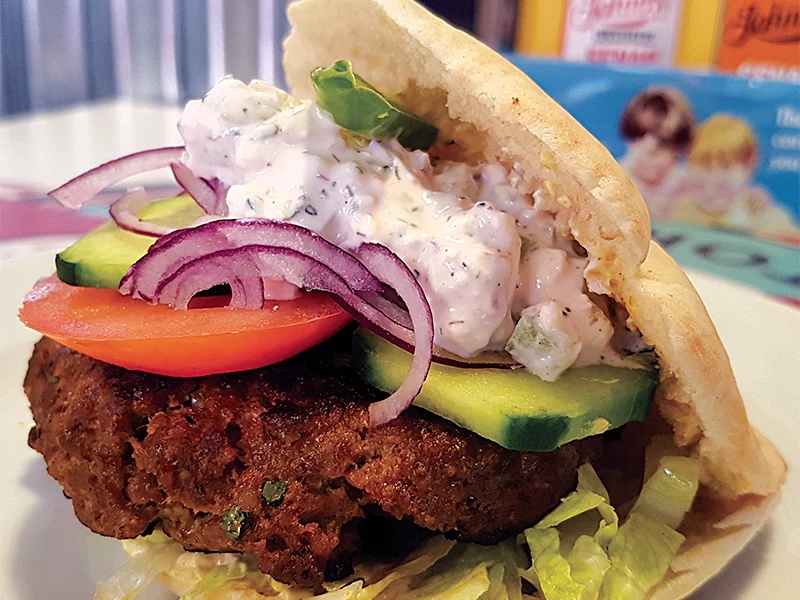 Lamb burger "Moroccan" style (halal-meat). Full of herbs and exotic spices, served with red onion jam and taziki.
13,50€
Miss Piggy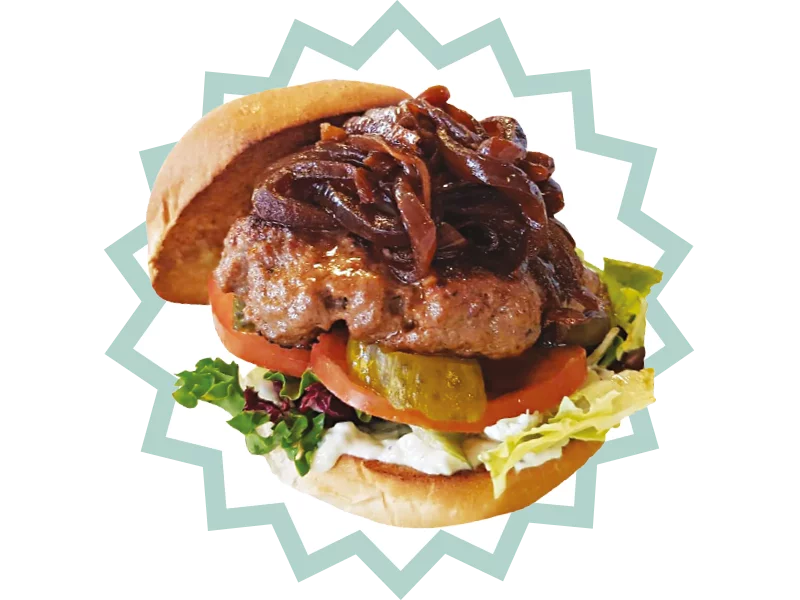 Crispy bacon and pork mince mixed together to create this fantastic 200g. burger. "Oinking good". If you like «saurf kraunt», we got it!!! Served with crispy pork rind.
12,70€
De Puta Madre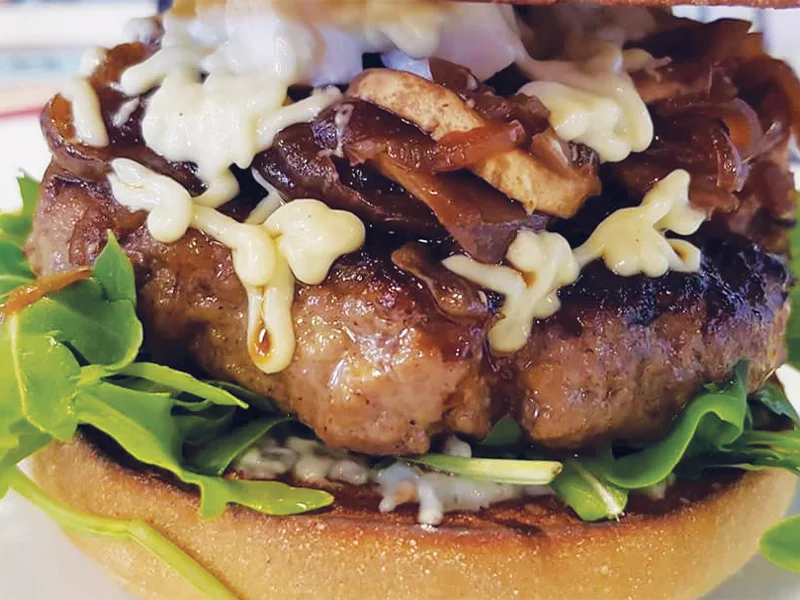 Burger served on a bed of rocket salad with caramelized onions, bacon and mushrooms. Crumble feta-cheese and wasabi mayonnaise on top.
12,75€
Grab & Eat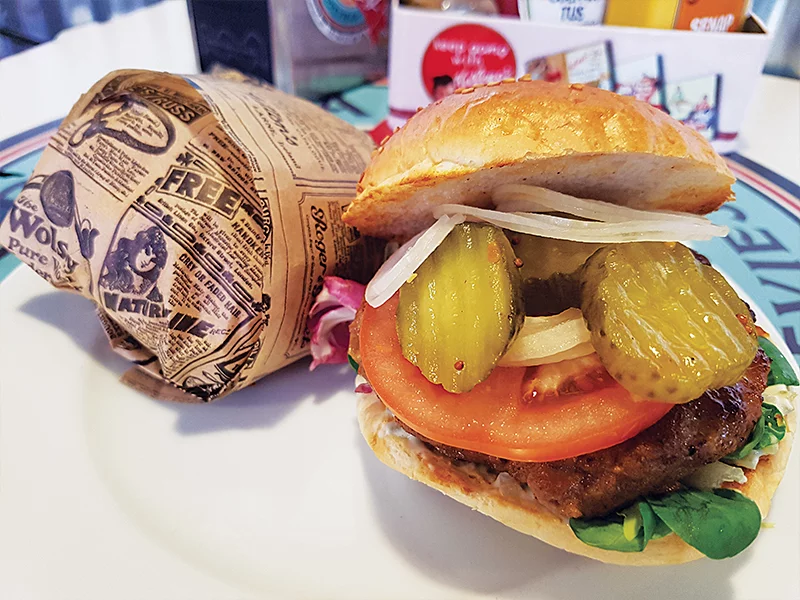 A 120g 100% beef served in a homebaked bun with lettuce, onion, pickles and tomatoes. "Perfect for take away"
8,50€
Classic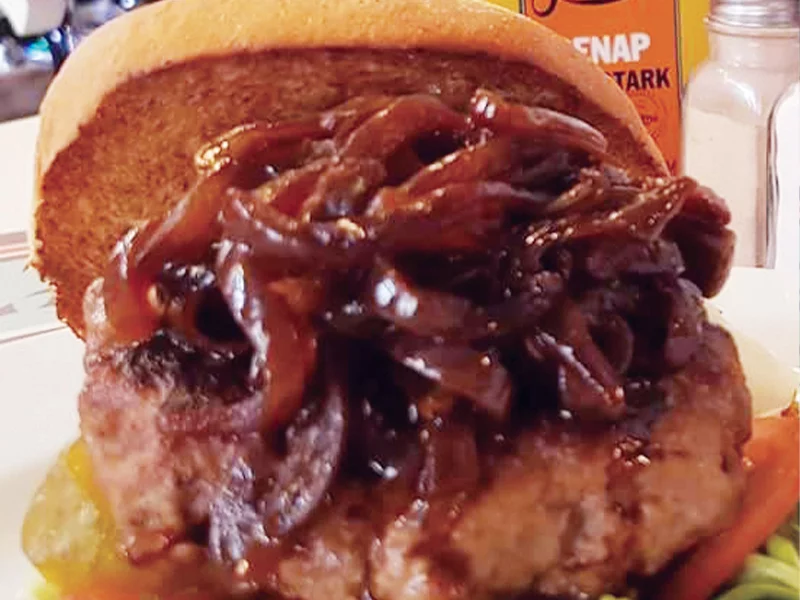 A 190g. Burger served, as always, with tomatoes, pickles and caramelized onions. lots of fresh salad.
9,25€
Chili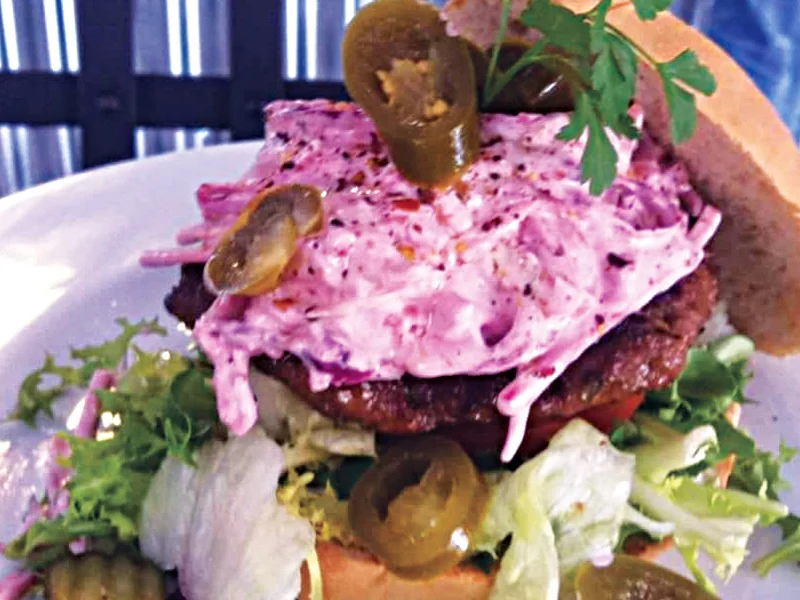 With "homemade hot coleslaw", jalapeños and fresh salad. (Just for the brave).
12,75€
Nemo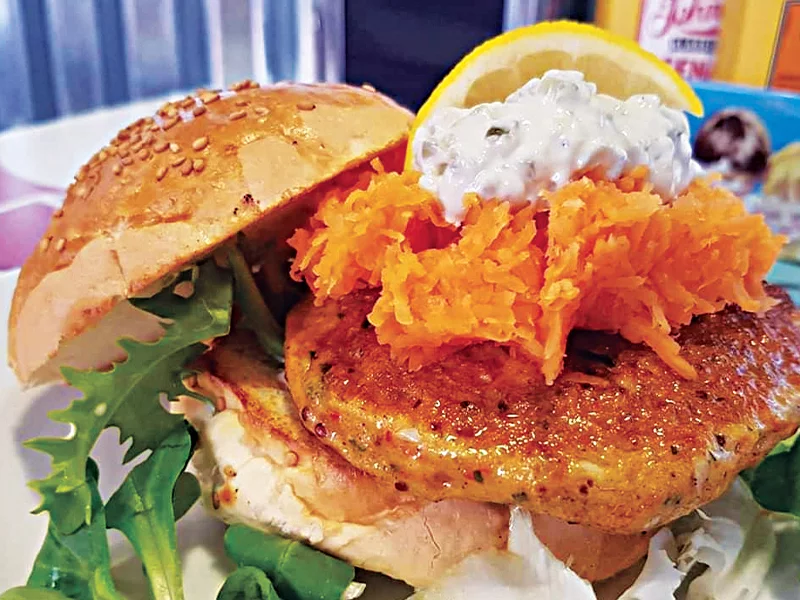 A mix of fresh fish has been blended together to make a fresh taste of ocean served with Tartar sauce on Carrot salad.
11,75€
ALL OUR BURGERS ARE SERVED WITH CHIPS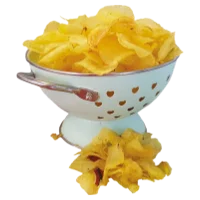 Any extra?

CARROT CAKE
(Mina's great secret) Delicious mmm…mm…m
APPLE PIE
With ice cream and ceam
Vanilla ice cream
With Baileys
Minas lovely homemade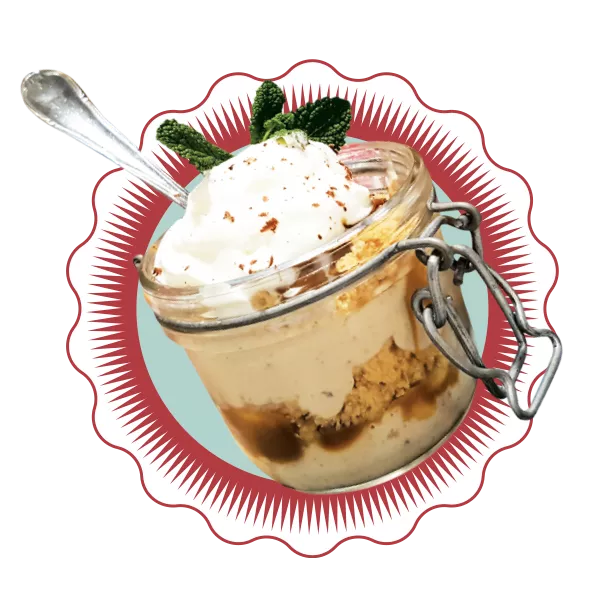 Rock & Roll
Choose between vanilla, chocolate or strawberry
mAKE IT «GROWN UP»
Adding your fav. liquer

San Francisco
With alcohol

«Karbonade» With caramelized onions
Typical Norwegian "hamburger" served in a (home baked) whole-grain bread. It is served with salad.
1. Double up ( 2 karbonade)
2. Fried eggs (no onions)
3. 1 + 2 Called «patenta» Home speciality.
«Black Smith»
Made and served in a cast-iron skillet, thinly sliced potatoes, black sausage, beet salad, sausage and fried egg, topped with fried bacon and mango chutney.
«club sandwich»
With chicken and bacon served in homemade focaccia bread and fresh salad.

«scampi»
Marinated shrimps with garlic and chili, sautéed in olive oil. Served with bread.
Mac and cheese
Pasta penne served in creamy cheese sauce.
«cesar salad»
Fresh salad with authentic Caesar sauce, dried tomatoes, feta cheese, bacon, croutons and breaded chicken sirloin.
«Zupperia salad»
Rich mix of salad, smoked salmon, egg and horseradish.

smoked «Caballa»
With cucumber salad and horseradish cream.
Entrecote 250 GR
Entrecote d'Ávila very tender with authentic Béarnaise sauce.
juicy chicken fillet
Rolled in bacon, with creamy mushroom sauce.
pork knuckle
Juicy pork knuckle slow cooked to perfection, served with onion sauce.

Spare Ribs
Slow cooked to perfection. Richley seasoned! Served with homemade BBQ sauce.
Nachos
Served hot with beef and cheese. Accompanied with guacamole, salsa dip and sour cream.
chiken wings
BBQ. 8 pieces.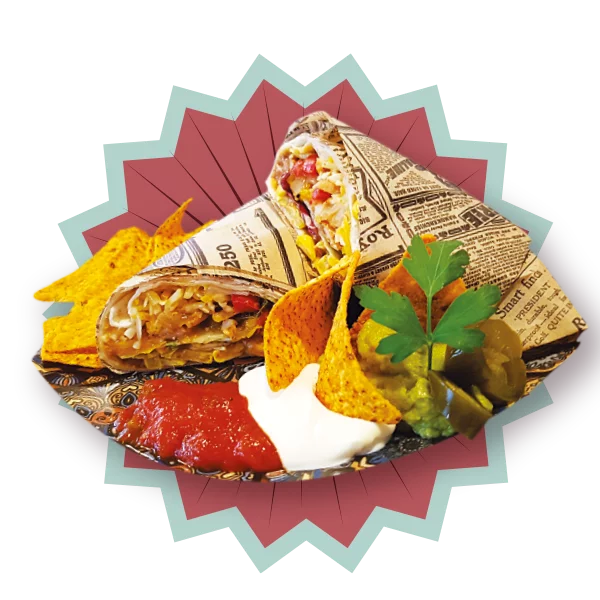 Burrito
10,00€
Chicken or Meat

tomato cream
With ceam and boiled egg.
Gazpacho Andaluz
With garnish.

burger
Small burger with french fries

OUR VEGETARIAN DISH
Delicious mix of sautéed vegetables, salad and potatoes. served with homemade hummus.